Beechworth Hidden Wineries
2nd Weekend of the Month

On the second Saturday and Sunday of the month September through June, this select group of wineries throw open their cellars (sheds, barrel halls, gardens and vineyards) for you to visit between 11.00am and 4.00pm.

For a personalised tour, barrel tasting or a tasting plate of local produce, message our Facebook group Beechworth Hidden Wineries or contact any winery directly (Email, Phone, Facebook).

There are cosy fires in winter and exceptional views in summer. Haldon Estate, Baarmutha and Indigo Vineyard have picnic facilities where you can enjoy the grounds. Serengale Vineyard's cellar door is set within their winery and Bowman's Run and Star Lane lie in the sleepy hamlet of Wooragee.

Amulet has lunches from noon to 3.00pm whilst Indigo Vineyard does cheese and charcuterie platters. The Cellar Door Wine Store in Beechworth showcases a comprehensive range of Beechworth wines, some of which are available to taste.

The total duration is approximately 5 hours to visit all the listed wineries and attractions (but might take longer if you really like your wines).
---
Check our Facebook group 'BeechworthHiddenWineries' for the particular month's featured winery (such as Sorrenberg, Domenica and The Ninth Mile).
Visit Our Wineries:
Glenbosch
Baarmutha
Bowman's Run
Haldon Estate
Eldorado Road
Weathercraft
Star Lane
---
View the Map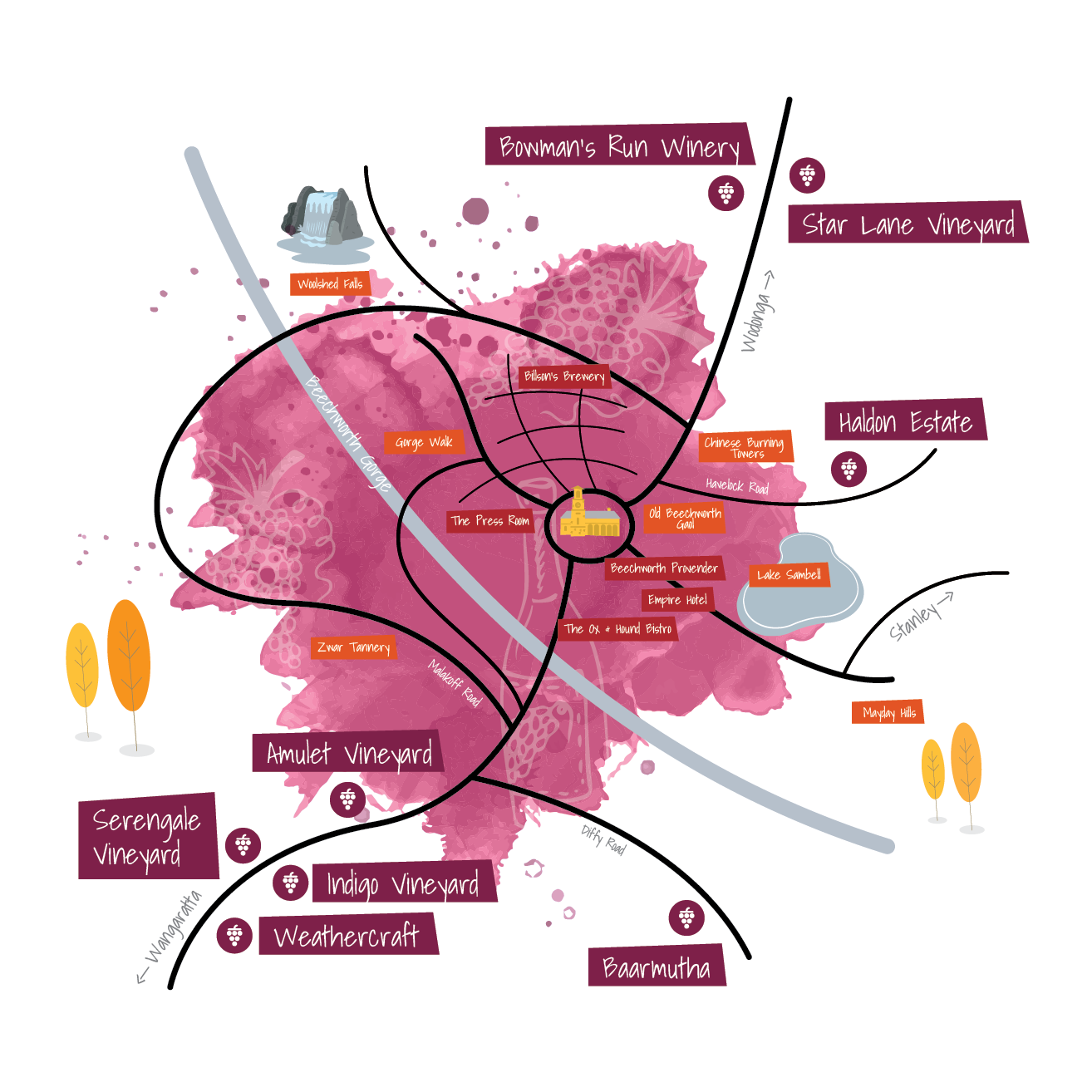 x