What's On & Things To Do
Whats On!
---
Pop Up Shop
3rd - 5th November 2017
Artisan Furniture and Decor Sale. Home Body preloved clothing and shoes.
---
The Last Train to Tarrawingee - Play & Performing Arts Tour
Friday 3rd November 2017 - 7.30pm
Sunday 5th November 2017 - 10.30am
Town Hall Gardens
---
Open Garden - Chestnut Gardens
Sunday 5th November 2017 - 10.00am - 4.00pm
104 Mt. Stanley Road Stanley
Gold coin donation plus sausage sizzle.
---
The Old Priory - Melbourne Cup Lunch
7th November 2017
The Old Priory
Music Kissin Cousins Fashions on the Fields. Bookings essential, call 5728 1024.
---
Spring Arts in Beechworth
4th - 26th November 2017
A month long celebration of the visual arts by artists from Indigo and beyond. Open Studios, workshops in painting, printmaking and environmental sculpture, walking tour of art in peoples homes. Group Exhibition Memorial Hall Childrens Art in the Town Hall Gardens Nina Machielse Hunt Feature Artist Solo Exhibition at the Old Stone Hall.
---
Beechworth Honey - Lost Art Series
Saturday 4th November & Sunday 5th November 2017
1.00pm - 4.00pm
Introduction to drawing in charcoal.
---
Bridge Road Brewery - Christmas Beer Release
10th November 2017
Bridge Road Brewery
---
Beechworth Singers
10th November 2017
Uniting Church
Traditional Scottish, Irish and Welsh Songs.
Enquiries 5728 2595
---
Beechworth Celtic Festival & Tattoo
10th & 11th November 2017
The Old Beechworth Gaol
---
Rotary Market
Saturday 11th November 2017
Queen Victoria Park
---
Patch to Patch Bike Tour
18th November 2017
Bike tour leaves old railway station 9.00am.
---
Beechworth's Vigneron's Spring Tasting
Saturday 18th November
2.00pm - 5.00pm
Book 0412 086 831
---
Old Beechworth Gaol Tour
The Old Beechworth Gaol
Thursday - Monday
11.45am
William St, Beechworth Vic 3747
Tickets from Beechworth Visitor Information Centre
visit_beechworth@indigoshire.vic.gov.au
---
Rare Ned Kelly Photograph
A unique and never before displayed photograph of Ned Kelly at work in a local sawmill is to be unveiled at the Ned Kelly Vault in Beechworth.
The photograph, which shows a muscular Kelly posing confidently in work clothes, is the property of an un-named member of the Kelly family, who has kindly loaned it to the Ned Kelly Vault for long-term display.
On display from Saturday 12 November 2016
Ned Kelly Vault, Beechworth
Burke Museum, Loch St, Beechworth Vic 3747
+61 3 5728 8067
+61 3 5728 2979
burke_museum@indigoshire.vic.gov.au
www.burkemuseum.com.au
Things To Do
---
Lost Arts Series
Beechworth Honey Discovery
Spring Program
Kitchen | Garden | Craft
2 Sept – 20 January 2018
Classes 2-4 hours most Friday, Saturday and Sundays
87 Ford Street, Beechworth, Victoria 3747
+61 3 5728 1433 
info@beechworthhoney.com.au
---
Places the locals enjoy...
Woolshed Falls
McFeeters Road off the Chiltern-Beechworth Road
Lake Sambell
Mc Conville Avenue Beechworth
Beechworth Historic Park - Gorge Drive and Walking Tracks
Gorge Road Beechworth
Mayday Hills Historic Trees Walk
Albert Road, Beechworth VIC 3747
Murmungee Lookout
Lady Newton Drive Beechworth
Yeddonbah Aboriginal Art Site
Mt Pilot National Park Yeddonbah Road Chiltern
Mount Pilot Tower Lookout
Mt Pilot National Park Old Coach Road Chiltern
---
Happiness is a sandy beach
Improvements to Sandy Beach at Lake Sambell in Beechworth will start on Tuesday 14 March with construction of two retaining walls.
"The walls will ensure the beach remains sandier for longer -- and help prevent the lake silting up -- and will provide seating and convenience to swimmers and sight-seers," the Mayor, Cr Jenny O'Connor, said today. "And we will bring in more sand to the beach once the walls are in place."
"We have been discussing how the improvements should proceed with interested residents, and have incorporated many excellent suggestions from them into the original design."
The Sandy Beach improvements are an important part of the Lake Sambell Master Plan which was adopted by Council in 2015 after extensive Community Consultation.
"As well as offering many ideas for consideration, members of the public twice met onsite with Council officers and engineers in February to clarify how the improvements would enhance the appearance and friendliness of the entire area," Cr O'Connor said.
News
---
Drop-in sessions to "discover" new rail trail
Media Release • 17th October 2017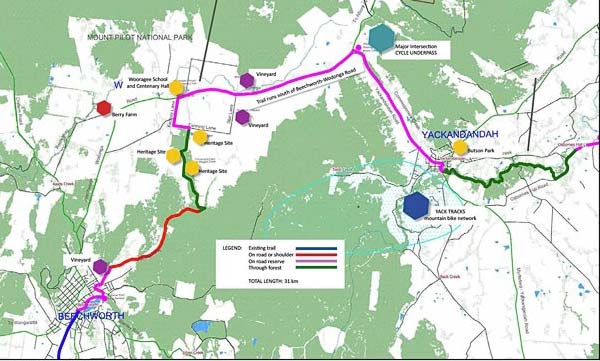 Indigo Shire Council will hold three drop-in information sessions about the new rail trail from Beechworth to Yackandandah and Osbornes Flat in the next few weeks.
Funding for the North East Victoria Cycle Optimisation project, a $12 million regional rail trail project, was announced by the State Government in the May budget and was followed by a confirmation visit by the Premier Daniel Andrews to Yackandandah in July. The Beechworth to Yackandandah component will cost $6 million and is scheduled to begin early in 2018.
Mayor Cr Jenny O'Connor said the drop-in information sessions would include a standing display of the maps of the route, handouts of maps and Frequently Asked Questions and other relevant information.
"Staff will be available to answer any questions and we have timed the sessions for both afternoon and evening to allow people as wide a timeframe as possible to attend," Cr O'Conner said.
"Beechworth and Yackandandah are much-loved and frequently visited historic towns that will be easily linked via the new rail trail. Both towns and the communities of Wooragee and Osbornes Flat and businesses along the trail such as wineries and farm gate businesses will benefit economically from increased tourist trade.
"The new rail trail will be an asset that draws residents and tourists alike to enjoy its various attractions."
Cr O'Connor said the trail alignment had been determined for many years based on availability of public land, connectivity of key nodes, suitable off-road alignment, and accessibility.
Work is expected to begin in 2018, beginning with an underpass at the Wodonga Road-Yackandandah turn-off.
"I encourage everyone to come along to one of the three sessions. Just drop-in, talk to staff, get some handouts to take home."
The three information sessions will be held at:
Wooragee Hall, Monday 30 October
Yackandandah Public Hall, Wednesday 8 November
Beechworth Town Hall, Monday 13 November
All sessions will be open from 2.30-4.30pm and again from 5.30pm to 7.30pm.
For further information visit www.indigoshire.vic.gov.au/railtrail
---
Rail Trail Bridge Replacement
Media Release • 1st August 2017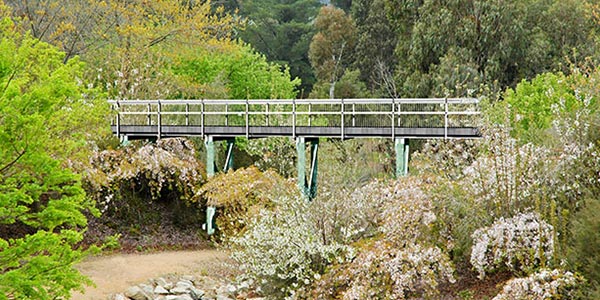 Artist's impression of the new bridge.
Indigo Shire Council will replace the pedestrian bridge on the Murray to Mountains Rail Trail near Albert Road in Beechworth.
The existing structure, which overlooks the Chinese Gardens, was completed in January 2001 and modelled on the original railway timber trestle style structure which was dismantled in the 1950s and 1960s.
The replacement bridge has been designed to sympathetically replicate the general character and appearance of the original bridge, enhance its safety and have a much longer life.
The new design will use the existing timber supporting posts, add new steel substructure and handrails along with a dark-coloured reinforced concrete deck. The white handrails assembled with black steel fasteners echo the character of the original railway structure. Steel wires will infill the open area in these handrails to provide appropriate fall protection without detracting from the overall design.
Heritage advice sought early in the project reinforced the fact that a fully accurate reconstruction of the original bridge would not satisfy the safety of all users with its low handrails and large gaps.
The proposed design draws upon the character of the original bridge while using contemporary long-life steel and reinforced concrete.
Photographs of the original bridges have been the key reference point for development of the new design. Detailed designs will be finalised this month and it is anticipated that contracts will be awarded in September ready for construction in the Spring.
It is estimated that the bridge will be closed for up to eight weeks during construction with a short detour in place during this time.