Beechworth News
Media Release • 6th August 2018
A new chapter for Kelly story in Beechworth
A new chapter for Kelly story in Beechworth
Media Release • 6th August 2018
---
Indigo Shire Mayor Cr Jenny O'Connor said she welcomed the Ned Kelly Alive Report released by Tourism North East and Regional Development Victoria.
"The Ned Kelly story is such a big part of our history and it attracts many visitors to the region every year. Beechworth is also home to the most significant collection of historic buildings connected to the Kelly story in regional Victoria."
"We welcome the recommendations in the Ned Kelly Alive Report, including a proposed expanded Kelly Experience at the Old Beechworth Gaol and Beechworth's Historic Precinct Courthouse 'Kelly Trials' concept."
"It is exciting to see two concepts proposed for Beechworth; it recognises Beechworth's existing Kelly credentials and collection as well as future tourism opportunities," Cr O'Connor said.
The Ned Kelly collection is made up of around 100 items, of which approximately 90 per cent are privately owned. It includes many rare items such as Sidney Nolan's final painting Shot, Ned Kelly's rifle, as well as original photographs and documents.
Burke Museum Manager Cameron Auty said the owners of the collection in the Ned Kelly Vault have expressed a wish to expand the exhibition and experience.
"They want to showcase more of this world-class collection for all visitors to enjoy and moving it to the Old Beechworth Gaol as part of the Kelly Experience concept is a great way to ensure that the collection stays in Beechworth. We hope it will also allow more items from the community to be sourced and displayed."
"We're excited to tell the Kelly story in new and innovative ways, and revitalise the historic precinct with an immersive interpretation of the Kelly Gang and family's trials at the Beechworth Courthouse," Mr Auty said.
The Ned Kelly Alive Report was funded by Regional Development Victoria, into the tourism potential of the life and times of Ned Kelly was released by commissioning partners, the Rural City of Wangaratta, Indigo Shire, Mansfield Shire and Benalla Rural City.
Read the report
Media Release • 24th July 2018
Ned Still Draws Them In
Ned Still Draws Them In
Media Release • 24th July 2018
---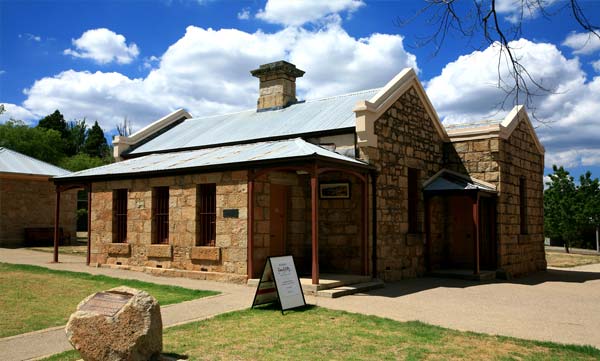 This week, the Ned Kelly Vault in Beechworth's Historic Precinct welcomed its 80,000th visitor.
The Ned Kelly Vault opened in 2014, and is a unique partnership between Indigo Shire Council, the Burke Museum and a community of supporters. It is staffed by volunteers from the Beechworth area, with curatorial expertise provided by the Burke Museum.
Burke Museum Manager Cameron Auty said Beechworth's Ned Kelly Vault is one of the best places in Australia to learn about Ned Kelly.
"The Vault houses regional Victoria's most extensive collection of Ned Kelly artefacts and memorabilia, drawn from public and private collections across Australia," he said.
"Key objects on display are Ned's death mask, Dan Kelly's pistol, Ned's favourite rifle 'Betty', the original table from Ann Jones' Inn at Glenrowan that shows the scars and bullet holes from the infamous siege, as well as pop culture items including 'Shot' - Sir Sidney Nolan's final Kelly painting."
The success of the Ned Kelly Vault is a clear indication of the interest in the Kelly story from both Australian and international visitors. Ned, his gang and the police and people of North East Victoria are central figures in Australian folklore. Their tale showcases themes of crime, justice and injustice, immigration, the gold rush, the creation of creation of modern Australian identity. The Ned Kelly Vault is a great place to dive deep into these stories and more.
Visitation at the Ned Kelly Vault is at an exciting time, with the Ned Kelly Alive report due to be released soon, Mr Auty said.
"The report, by Tourism North East and Regional Development Victoria, in conjunction with local government authorities from the region, will showcase immersive and engaging cultural tourism experiences across Victoria's High Country based on the Ned Kelly story.
"This is a great time for cultural heritage around the Kelly story. We are telling the story in deeper and richer ways than ever before, and this visitation milestone to the Ned Kelly Vault shows that people continue to be fascinated with the Kellys and their impact on Australian history. We're excited about big things to come for the Vault and for Ned Kelly in Beechworth."
Media Release • 26th June 2018
Our Chinese Soldiers - Burke Museum
Our Chinese Soldiers - Burke Museum
Media Release • 26th June 2018
---
The Burke Museum in Beechworth is hosting a travelling exhibition from the Chinese Museum, titled 'Chinese Anzacs and Chinese Australians During the World Wars'.
This exhibition will be at the Burke Museum from Sunday 1 July to Friday 20 July 2018.
The exhibition consists of eight panels describing the experiences of Chinese Australian soldiers and citizens during two World Wars.
It features Richard Wesley Wong, a Beechworth soldier who died in France in 1917. Richard's WWI memorial coin and photograph were recently donated to the Burke Museum by the 8th/13th Victorian Mounted Rifles Museum, and will be displayed alongside the panels.
Richard joined the AIF in 1916 aged 27. His brother William was rejected from the Army because he was "not substantially of European origin". Richard was sent to France in early 1917, and two months later was killed during a German artillery bombardment.
The memorial coin was given to Richard's mother Emma Jane Wong, of Stanley Road Beechworth. It was most recently held by the 8th/13th Victorian Mounted Rifles Museum and was donated to the Burke Museum as a significant piece of Beechworth history.
"This is an important donation for the Burke Museum, and we're honoured to be able to display it alongside the Chinese Museum's exhibition," the manager of the Burke Museum, Cameron Auty, said.
"Beechworth's Chinese history from the gold rush to today is one of the town's most significant stories, and this donation and exhibition are exciting events for the Burke Museum".
10th May 2018
Meet author Glenna Thomson at Beechworth Library
Meet author Glenna Thomson at Beechworth Library
10th May 2018
---
Glenna Thomson, author of Blueberry and Stella and Margie, will be visiting the libraries this month.  
You'll find her at Yackandandah Library on Wednesday 30th May at 1.30pm or alternatively at Beechworth Library on Thursday 31st May at 10.00am
Bookings can be made online using the link below or by phone on 1300 365 003
This is a FREE event.
Media Release • 12th April 2018
A 'bold and brave' 2018 Kerferd Oration
A 'bold and brave' 2018 Kerferd Oration
Media Release • 12th April 2018
---
This year's Kerferd Oration is to be delivered by Northern Territory Senator Malarndirri McCarthy.
Senator Malarndirri McCarthy is a Yanyuwa woman from the Gulf country in the Northern Territory. She first entered the public sphere as a journalist with the ABC and more recently for SBS/NITV.
With a focus on bringing communities together and ensuring remote communities are engaged with and listened to, Senator McCarthy wants to encourage all Australians to be 'bold and brave' to develop a united vision for Australia.
"First Nations people share a history that stretches more than 50,000 years. We have the longest surviving continuous culture in the world, yet our Constitution is silent on the existence of First Nations Peoples", Senator McCarthy said.
"This inequality is a challenge that impacts the lives of Aboriginal and Torres Strait Islander peoples every day. It is just one of the many challenges facing our modern nation. When we talk about our future we must not make the same mistakes of the past and ensure that we do not leave anyone behind." 

Senator McCarthy was elected to the Northern Territory Assembly as the Member for Arnhem in 2005. During her seven years in the Assembly, she held the Ministerial Portfolios of Local Government, Regional Development, Indigenous Development, Tourism, Women's Policy and Statehood.
She was elected as Senator for the Northern Territory in August 2016. Her experiences bring unique perspectives to the role of Labor Senator for the NT, a familiarity with the challenges and opportunities facing Territorians, and the perseverance and determination to drive change.
Kerferd Oration 
The George Briscoe Kerferd Oration was first held in 2003 to commemorate the 150th anniversary of the naming of Beechworth. The annual Oration is a free community event sponsored by Indigo Shire Council, La Trobe University, WAW Credit Union and Quercus Beechworth.
The Oration will be held at the George Kerferd Hotel, Mayday Hills, on Sunday 29 July starting at 11am - doors open at 10.15.
Media Release • 6th March 2018
New Beechworth IGA to open in April
New Beechworth IGA to open in April
Media Release • 6th March 2018
---
The new IGA Ritchies supermarket in Beechworth will officially open for business at 8am on Wednesday 11 April.
Ritchies CEO Fred Harrison said his team was getting quite excited about the official opening after more than two years of planning and construction work following the fire that destroyed most of the old store in January 2016.
The new building will be officially opened jointly by Mr Harrison and Indigo Shire Deputy Mayor Cr Sophie Price.
"The work to rebuild on the same site has been pretty constant of late and while there were some initial delays with cleaning up the site and finalising the plans, we are now all set to open the doors at 8am on Wednesday 11 April," Mr Harrison said.
Since the fire, the supermarket set up business in the former plumbing shop building in Harper Avenue, Beechworth, with its liquor outlet 100m away in the former library building, owned by Indigo Shire Council, on the corner of Harper Avenue and Albert Road.
Mr Harrison was full of praise for the previous occupants of the plumbing shop, Jo and Mick Westra, who moved to a site elsewhere in Beechworth in order to provide the community with a viable space for the temporary supermarket.
"Indigo Shire Council has also been very helpful, leasing us the site where our liquor outlet now is and also throughout the planning and building phases of the new building," he said.
"I also thank our staff who have worked so well in the temporary site and maintained our customer base. They are all looking forward to moving to the new building and we will also be increasing our casual and part-time staff numbers by 15, more over summer.
"We have faith in our business, in our staff and especially in the people of Beechworth. They have continued to support us over the past two years and I thank them for that support. It means we can get off to a great fresh new start in the new building."
Mr Harrison said the new premises would be light-filled, airy and spacious with a range of new offerings. A key feature is the latest development in environmentally friendly and energy efficient refrigeration, which is the first of its kind in Australia.
Indigo Shire Mayor Cr Jenny O'Connor said it was great news to finally see the new supermarket about to open its doors.
"The strength of community has been demonstrated again through this issue with people rallying to support the temporary IGA site and the staff there, knowing that something better and permanent was taking shape on the old site in Loch Street," she said.
"I wish Ritchies and of course the current and new staff all the very best in their new building."
Media Release • 25th January 2018
Australia Day Awards 2018
Australia Day Awards 2018
Media Release • 25th January 2018
---
Australia Day was celebrated across Indigo Shire on the 26 January with events in Barnawartha, Beechworth, Chiltern, Kiewa-Tangambalanga, Rutherglen and Yackandandah.
Each venue featured entertainment, community meals and a flag ceremony, followed by the presentation of Indigo Shire Australia Day Awards.
The awards celebrate the contribution of individuals, community organisations and businesses. They pay tribute to those who make extraordinary contributions to society or who are outstanding achievers in the Indigo community.
We can all be proud of this year's award winners.
Citizen of the Year
Peter Croucher
Every community needs someone like Peter Croucher, everybody in the district knows and admires what Peter does.
Peter gives his time to almost every aspect of our community life: sport, culture, education, the elderly, service clubs and fulfilling civic responsibilities.  His involvement in and commitment to the towns of Kiewa and Tangambalanga add enormously to the quality of life of residents.
Peter was an Indigo Shire Councillor for eight years, founded and co-edits the Kiewa River Gazette, he is a member of the Kiewa Tangambalanga Lions Club, the Tangambalanga Tennis Club, Kiewa Sandy Creek Football Club, bowling club, the Atauro Island Friendship Committee and past Junior Council coordinator. He has played music for 42 Deb Balls and was the secretary of the Kiewa District Tennis Association for 34 years.
Peter has lived locally for almost all his life and has been a tireless worker for both his local community and beyond.
Community Organisation of the Year
Black Dog Soup Kitchen - Chiltern
Every Wednesday the Black Dog Soup Kitchen provides tasty and nutritious meals to those who need it. It is a social nexus that generates a true connection within the Chiltern community for people from different backgrounds. They also deliver meals to around 26 disabled and elderly residents who are unable to leave their homes to attend. The benefits are numerous -- healthy meals and a chance to have a conversation and catch up with old friends.  
Young Citizens of the Year
Tangambalanga Action Crew
The Tangambalanga-Kiewa Youth Action Crew was born out of the Indigo Shire Youth Action Crew Strategy to inspire, activate and train young people in the community to create and lead events and activities, and be the voice for young people in their community.
The Youth Action Crew came together in June 2017 to organise and run their first community activation project, the Kiewa-Tangambalanga Mini Music Fest in November last year. The festival at the Kiewa Memorial Park included local artists such as Chelsea Knight from Staghorn Flat and the Tallangatta High Jazz Band, alongside established artists such as Twin Peaks from Canada and Aria award-winning artist Nicky Bomba and The All Stars.
Certificates of Achievement
Kathryn Chivers - Beechworth and District
Community volunteer and mentor. Kathryn is a founding member of Plasticwise Beechworth and a member of Plasticwise Indigo. She was instrumental in bringing soft plastic collection to Beechworth. Kathryn has strong pride in her Chinese heritage and the history in the Beechworth area, and a passion to educate and share it with others.
Bill Meagher - Rutherglen and District
Tireless volunteer with the Rutherglen Lifesaving and Swimming Club, Rutherglen Neighbourhood Watch, Rutherglen Primary School and High School, Rutherglen Junior Football Club Glenview at Indigo North Health, Indigo Shire Community Grants Committee and St Stephen's Anglican Church.
Rita Ryan - Barnawartha and District
School, church and community friend. Rita is well known around the Murray Valley School for the disabled, the Barnawartha Primary School and Wodonga Secondary School. Rita is also a very fine cook!
Dave Crook - Yackandandah and District
Dave spends many house maintaining the beauty of Yackandandah's streets. With his wife, Rose, other Yackandandah Garden Club members he is frequently seen weeding the garden beds, spreading mulch, and maintaining the planter barrels. Visitors and locals often remark on how the garden beds in the main street improve the town. Dave has been in the garden club for 10 years and was secretary of the Scouts for six years.
Emma George Sporting Scholarship
Martin Miranda
Martin Miranda is a 16-year-old Soccer Player from Beechworth. Martin has dedicated a lot of time to his local club the Wodonga Diamonds and was selected to be part of the Seniors Team. Congratulations on your achievements, Martin!
Media Release • 27th November 2017
Beechworth Wins Victorian Tidy Towns Award... Again
Beechworth Wins Victorian Tidy Towns Award... Again
Media Release • 27th November 2017
---
Beechworth has once again won the Victorian Overall Tidy Towns award for 2017, which was announced at an awards event in Horsham on Saturday night. Indigo Shire Mayor Cr Jenny O'Connor was full of praise for Beechworth and the manner in which it was showcased for the awards.
"Beechworth has much to be proud of and it has been recognised, again, with this award. Beechworth won this award in 2014, and then twice in a row in 2009 and 2010, before going on to win the national award in Canberra in 2010," Cr O'Connor said.
"Beechworth's involvement and the recognition our town has received over many years is testament to our wonderfully proactive and proud community members who both participate in the awards and organise our entries."
Cr O'Connor acknowledged the hard work of the community group that compiled the town's application.
"This group of people has an abundance of enthusiasm for the Tidy Towns Sustainable Communities Awards and every year they pull together our application," Cr O'Connor said.
"Iris Mannik in particular deserves high praise. She has been a driving force in collating our entry for 24 years, ably helped by Ann Wilson for the past 14 years and also Jill Jarvis-Wills in recent years.
"They never tire and their commitment to celebrating our town and community is to be applauded."
Cr O'Connor said that since their inception in 1968, the awards had grown from being a simple anti-litter campaign to a nationally recognised program encouraging projects as varied as preserving heritage, saving water and energy, community action and leadership.
"The long-term behavioural change across communities brought about by these awards allows us to build better communities year by year, and encourages us to tread lightly on our landscape."
Beechworth will now go forward to the national awards early next year.
Media Release • 17th October 2017
Drop-in Sessions to "Discover" New Rail Trail
Drop-in Sessions to "Discover" New Rail Trail
Media Release • 17th October 2017
---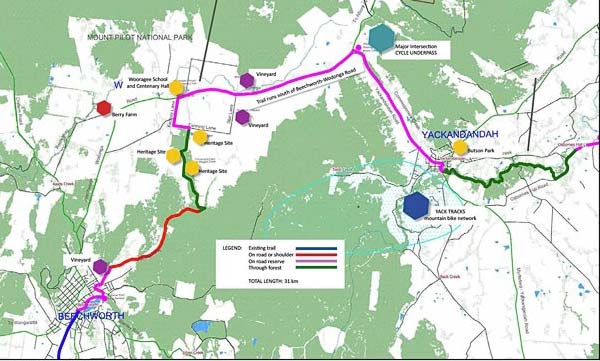 Indigo Shire Council will hold three drop-in information sessions about the new rail trail from Beechworth to Yackandandah and Osbornes Flat in the next few weeks.
Funding for the North East Victoria Cycle Optimisation project, a $12 million regional rail trail project, was announced by the State Government in the May budget and was followed by a confirmation visit by the Premier Daniel Andrews to Yackandandah in July. The Beechworth to Yackandandah component will cost $6 million and is scheduled to begin early in 2018.
Mayor Cr Jenny O'Connor said the drop-in information sessions would include a standing display of the maps of the route, handouts of maps and Frequently Asked Questions and other relevant information.
"Staff will be available to answer any questions and we have timed the sessions for both afternoon and evening to allow people as wide a timeframe as possible to attend," Cr O'Conner said.
"Beechworth and Yackandandah are much-loved and frequently visited historic towns that will be easily linked via the new rail trail. Both towns and the communities of Wooragee and Osbornes Flat and businesses along the trail such as wineries and farm gate businesses will benefit economically from increased tourist trade.
"The new rail trail will be an asset that draws residents and tourists alike to enjoy its various attractions."
Cr O'Connor said the trail alignment had been determined for many years based on availability of public land, connectivity of key nodes, suitable off-road alignment, and accessibility.
Work is expected to begin in 2018, beginning with an underpass at the Wodonga Road-Yackandandah turn-off.
"I encourage everyone to come along to one of the three sessions. Just drop-in, talk to staff, get some handouts to take home."
Media Release • 1st August 2017
Rail Trail Bridge Replacement
Rail Trail Bridge Replacement
Media Release • 1st August 2017
---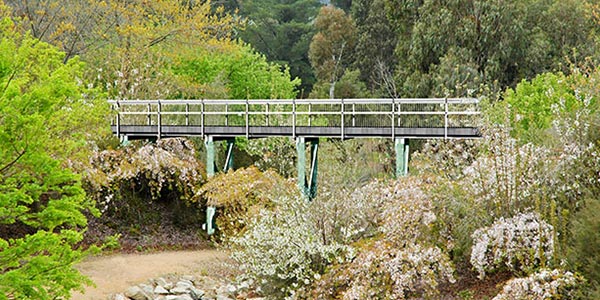 Artist's impression of the new bridge.
---
Indigo Shire Council will replace the pedestrian bridge on the Murray to Mountains Rail Trail near Albert Road in Beechworth.
The existing structure, which overlooks the Chinese Gardens, was completed in January 2001 and modelled on the original railway timber trestle style structure which was dismantled in the 1950s and 1960s.
The replacement bridge has been designed to sympathetically replicate the general character and appearance of the original bridge, enhance its safety and have a much longer life.
The new design will use the existing timber supporting posts, add new steel substructure and handrails along with a dark-coloured reinforced concrete deck. The white handrails assembled with black steel fasteners echo the character of the original railway structure. Steel wires will infill the open area in these handrails to provide appropriate fall protection without detracting from the overall design.
Heritage advice sought early in the project reinforced the fact that a fully accurate reconstruction of the original bridge would not satisfy the safety of all users with its low handrails and large gaps.
The proposed design draws upon the character of the original bridge while using contemporary long-life steel and reinforced concrete.
Photographs of the original bridges have been the key reference point for development of the new design. Detailed designs will be finalised this month and it is anticipated that contracts will be awarded in September ready for construction in the Spring.
It is estimated that the bridge will be closed for up to eight weeks during construction with a short detour in place during this time.