Beechworth News
Media Release • 27th November 2017
Beechworth Wins Victorian Tidy Towns Award... Again
Beechworth Wins Victorian Tidy Towns Award... Again
Media Release • 27th November 2017
---
Beechworth has once again won the Victorian Overall Tidy Towns award for 2017, which was announced at an awards event in Horsham on Saturday night. Indigo Shire Mayor Cr Jenny O'Connor was full of praise for Beechworth and the manner in which it was showcased for the awards.
"Beechworth has much to be proud of and it has been recognised, again, with this award. Beechworth won this award in 2014, and then twice in a row in 2009 and 2010, before going on to win the national award in Canberra in 2010," Cr O'Connor said.
"Beechworth's involvement and the recognition our town has received over many years is testament to our wonderfully proactive and proud community members who both participate in the awards and organise our entries."
Cr O'Connor acknowledged the hard work of the community group that compiled the town's application.
"This group of people has an abundance of enthusiasm for the Tidy Towns Sustainable Communities Awards and every year they pull together our application," Cr O'Connor said.
"Iris Mannik in particular deserves high praise. She has been a driving force in collating our entry for 24 years, ably helped by Ann Wilson for the past 14 years and also Jill Jarvis-Wills in recent years.
"They never tire and their commitment to celebrating our town and community is to be applauded."
Cr O'Connor said that since their inception in 1968, the awards had grown from being a simple anti-litter campaign to a nationally recognised program encouraging projects as varied as preserving heritage, saving water and energy, community action and leadership.
"The long-term behavioural change across communities brought about by these awards allows us to build better communities year by year, and encourages us to tread lightly on our landscape."
Beechworth will now go forward to the national awards early next year.
Media Release • 17th October 2017
Drop-in Sessions to "Discover" New Rail Trail
Drop-in Sessions to "Discover" New Rail Trail
Media Release • 17th October 2017
---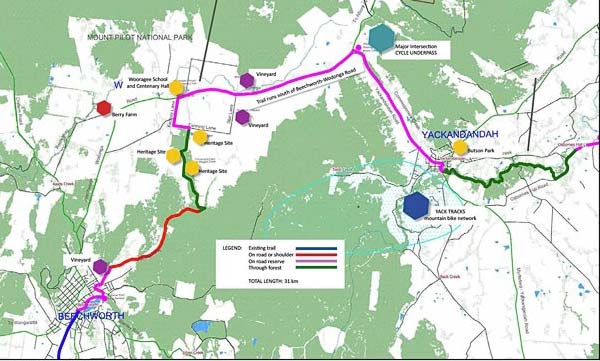 Indigo Shire Council will hold three drop-in information sessions about the new rail trail from Beechworth to Yackandandah and Osbornes Flat in the next few weeks.
Funding for the North East Victoria Cycle Optimisation project, a $12 million regional rail trail project, was announced by the State Government in the May budget and was followed by a confirmation visit by the Premier Daniel Andrews to Yackandandah in July. The Beechworth to Yackandandah component will cost $6 million and is scheduled to begin early in 2018.
Mayor Cr Jenny O'Connor said the drop-in information sessions would include a standing display of the maps of the route, handouts of maps and Frequently Asked Questions and other relevant information.
"Staff will be available to answer any questions and we have timed the sessions for both afternoon and evening to allow people as wide a timeframe as possible to attend," Cr O'Conner said.
"Beechworth and Yackandandah are much-loved and frequently visited historic towns that will be easily linked via the new rail trail. Both towns and the communities of Wooragee and Osbornes Flat and businesses along the trail such as wineries and farm gate businesses will benefit economically from increased tourist trade.
"The new rail trail will be an asset that draws residents and tourists alike to enjoy its various attractions."
Cr O'Connor said the trail alignment had been determined for many years based on availability of public land, connectivity of key nodes, suitable off-road alignment, and accessibility.
Work is expected to begin in 2018, beginning with an underpass at the Wodonga Road-Yackandandah turn-off.
"I encourage everyone to come along to one of the three sessions. Just drop-in, talk to staff, get some handouts to take home."
Media Release • 1st August 2017
Rail Trail Bridge Replacement
Rail Trail Bridge Replacement
Media Release • 1st August 2017
---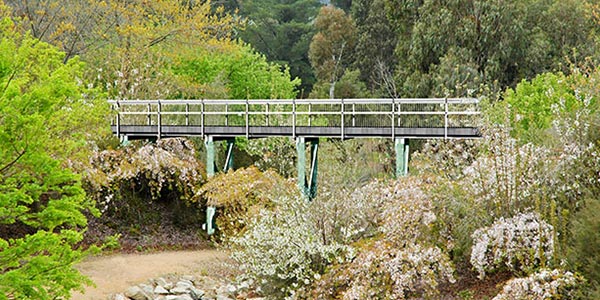 Artist's impression of the new bridge.
---
Indigo Shire Council will replace the pedestrian bridge on the Murray to Mountains Rail Trail near Albert Road in Beechworth.
The existing structure, which overlooks the Chinese Gardens, was completed in January 2001 and modelled on the original railway timber trestle style structure which was dismantled in the 1950s and 1960s.
The replacement bridge has been designed to sympathetically replicate the general character and appearance of the original bridge, enhance its safety and have a much longer life.
The new design will use the existing timber supporting posts, add new steel substructure and handrails along with a dark-coloured reinforced concrete deck. The white handrails assembled with black steel fasteners echo the character of the original railway structure. Steel wires will infill the open area in these handrails to provide appropriate fall protection without detracting from the overall design.
Heritage advice sought early in the project reinforced the fact that a fully accurate reconstruction of the original bridge would not satisfy the safety of all users with its low handrails and large gaps.
The proposed design draws upon the character of the original bridge while using contemporary long-life steel and reinforced concrete.
Photographs of the original bridges have been the key reference point for development of the new design. Detailed designs will be finalised this month and it is anticipated that contracts will be awarded in September ready for construction in the Spring.
It is estimated that the bridge will be closed for up to eight weeks during construction with a short detour in place during this time.