Woolshed Falls - Eldorado
Woolshed Falls
Woolshed Falls are spectacular Water Falls, which were once the centre of the richest Goldfields in Victoria, with more than 8000 Gold Miners or Diggers living along the banks of this small stream. 
5 kms from Beechworth towards Chiltern, the Woolshed Valley is steeped in mining history. Large eroded gullies like this are found throughout the Beechworth goldfields district. They were mostly the result of hydraulic sluicing, a method of mining in which hoses were used to direct water at high pressure on gold bearing stream banks. This method was used here after the waters of the original Spring Creek ( Reid's Creek ) was diverted from its course. This gave the miners access to the rich gold bearing original creek bed.
Driving through the Woolshed Valley towards Eldorado places of interest are
Kangaroo Crossing
Barry's Falls
Kelly Caves
Kelly Lookout - excellent views
Site of Sherritt's Hut
Site of Sebastopol
Woolshed Road Drive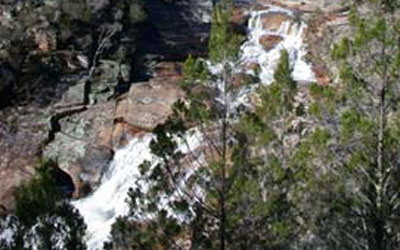 Eldorado
Eldorado is a short 20 minute drive from Beechworth along the Wangaratta – Beechworth Road, turning off at the Eldorado - Tarrawingee Road sign.  Or, you can drive through picturesque Woolshed Valley via Lavender Lady at Sebastopol while enjoying the bush scenery.
The small village has, the smallest pub in Victoria "The McEvoy Tavern"; a general store and Post Office; a wonderful museum housed in the Old 1870s School House; Eldorado Pottery studio; play equipment, BBQ and toilet facilities at the Gunhouse Park in the centre of town; and the largest "Historical Gold and Tin Dredge" in the southern hemisphere.  Mt Pilot Estate Winery is nearby at Byawatha.  B&B accommodation at Yellow Cottage and caravan sites or cabin accommodation at Gemstone Caravan Park are available. Appointments are advised for the Pottery (03 5725 1542), Mt Pilot Wines (03 5726 5434), Lavender Lady (03 5728 1331) and the Museum (03 5725 1542 or 03 5725 1757) as opening times are limited.
At the height of the gold rush in the 1870's, almost 4,000 people live in Eldorado.  Up until 1895 the main form of mining was via deep shafts being sunk to depths of 70 metres. Following the collapse of a shaft which killed six miners, open cut mining then became the norm and in 1936 Cock Eldorado Gold Dredging Company was commissioned with the dredge being reputedly the second largest in the Southern Hemisphere. You can still see the Dredge as it lies disused today.
The Eldorado Museum holds a collection that reflects the life and times from 1850-1950. The displays cover mining, farming and social history of Eldorado and surrounds and is housed in the old school building as well as in outside displays. The Eldorado Museum offers you an opportunity to step back in time and view life as it was from the time of the discovery of gold.