Myrtleford - Bright
Myrtleford
Nestled in the Ovens Valley with Mt Buffalo providing a dramatic backdrop, just 30kms from Beechworth is the township of Myrtleford. 
For many years tobacco growing was the main agricultural industry in the fertile Ovens Valley, contributing around $28 million each year at the farm gate. This ended in 2006 when the growers accepted a financial package from British American Tobacco, Phillip Morris and the Australian Government to terminate production.  Today there is a boom in wine-grape production as well as other crops such as walnuts, chestnuts and cherries.
The picturesque man-made Lake Buffalo, approximately 20km out of Myrtleford is an excellent spot fro fishing, boating, swimming, water skiing and picnicking. The Murray to the Mountains Rail Trail takes cyclists past Gapsted, through Myrtleford and on to Bright.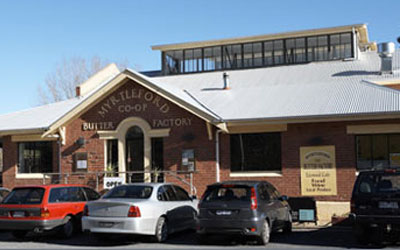 Bright
Located at the foothills of the Australian Alps, close to Mt Hotham, Mt Buffalo and Falls Creek 50 minutes drive from Beechworth, you will find the very beautiful township of Bright.
Famous for its autumn colour, Bright provides a mix of fine food and wine, history and outdoor activity on a backdrop of magnificent scenery all year round.
Activities include; paragliding, abseiling, kayaking, horse riding, cycling, bushwalking, skiing, Bright Art Gallery and Cultural Centre, Centenary Park for barbecuing and picnicking and Alpine National Parks.